Public urged not to use the lifejackets over safety concerns.
Product safety recalls have been issued for two personal flotation devices (PFDs) sold on the local market due to concerns about their effectiveness in an emergency situation.
Following testing by Maritime Safety Victoria (MSV), Jarvis Walker has issued a voluntary recall of its Adult Block PFD Type 1 which was sold under two brands as three separate codes:
Single unit code 241050 Platinum brand, sold from July 2011 to December 2015
Single unit code 56000 JW Brand, sold from January 2012 to December 2015
Twin pack code 241300 JW Brand, sold from August 2014 to October 2017
Regardless of the brand, all have the single unit marking of "PFD TYPE 1"
According to MSV, it tested a single lifejacket batch and model number and identified a suspected design fault with the waistband affixed to one side only. In testing, it was found that the unsecured side of the lifejacket slipped free of the waistband when test subjects entered the water, posing a risk of drowning. Other lifejackets with the same fault were also identified.
TSV said the recall includes adult lifejackets nationally in the order of 40,000 products sold in single and twin packs. Some of the lifejackets have also been sold in New Zealand.
Consumers are urged not to use the Block PFD and to contact Jarvis Walker via phone on 03 8787 6900 or email. MSV has also advised retailers to check Jarvis Walker and other branded stock for a similar design fault and to contact their suppliers.
Futher
details about MSV's findings are here.
The Cause Kids Neo Vests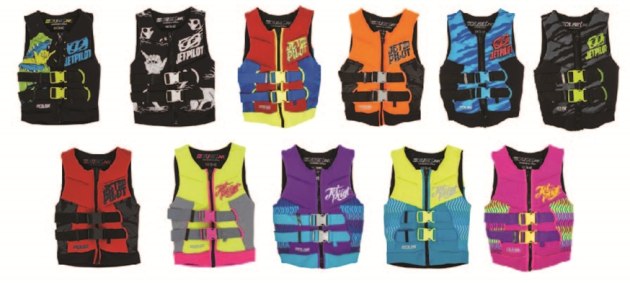 The Australian Competition and Consumer Commission (ACCC) has also issued a product recall for a range of PFDs from Jetpilot Australia. The affected models are The Cause Kids Neo Vests (model # HD211, size 3-4, size 4-6 and size 8-10) which were sold online and through watersports stores in Australia and New Zealand from August 2016 to January 2018.
According to the recall notice, the flotation material in the PFD does not provide sufficient buoyancy to comply with the minimum buoyancy requirements of the voluntary Australian Standard AS 4758.1:2015 for lifejackets. As a result, in an emergency situation, the vests may not provide the required flotation to keep the user above the waterline.
Consumers are advised to immediately stop using the vest and return it to the place of purchase for a full refund. For further information, contact Jetpilot Australia on 07 5665 8333 or email.
Read more at http://www.marinebusiness.com.au/news/